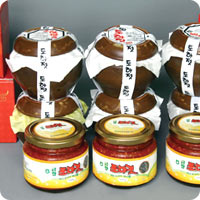 Guemjeong Toha Jeot
This Toha Jeot is made by aging the salted fresh shrimps for two months that have been farmed in the natural condition located in the deep mountain area of Guemjeong village. Guemjeong Toha Jeot's great taste is well know to stimulate the taste pallet enough to consume a bawl of rice with just one spoon of the salted shrimps.
Purchase Information
Origin : Guemjeong-myeon area, Yeongam-gun
Store : Guemjeong Agricultural Cooperative Tel : 061)472-1779
Sales Period : All Year
Package Set: 420g×1 ech., 420g×2 ech., 500g×1 ech., 500g×2 ech.